For more than a decade, Pantone's Colour of the Year has influenced product development in numerous industries such as fashion, home decor, as well as product packaging and graphic design. This year, Radiant Orchid was named it's Colour of the Year for 2014.
According to them, " Blending both cool and warm undertones, purple is an appealing hue for distinctive combinations and flattering to many hair, eye and skin tones". So what better places to put it then where you look at yourself the most- bedrooms and baths. As always, the colour of the year can be incorporated in many smaller ways that can be changed out if/when you grow tired of it.
You can paint a deeper accent wall behind your bed in one of my favourite Benjamin Moore purples-  Dark Lilac 2070-30 or Purple Lotus 2072-30. Pair it with a neutral like gray, beige or taupe for the the remainder of the walls.
You can also use it in bedding- this striking Marrakesh pattern from Echo Design is a striking mix of neutrals with hits of purple.
Why not use a wallpaper in a powder room that has some purple in it? This is an inexpensive yet striking option from Bouclair Home ($29.99 for a double roll).
Or if that's still too bold, try mixing in some patterned purple towels such as these from Bed, Bath & Beyond.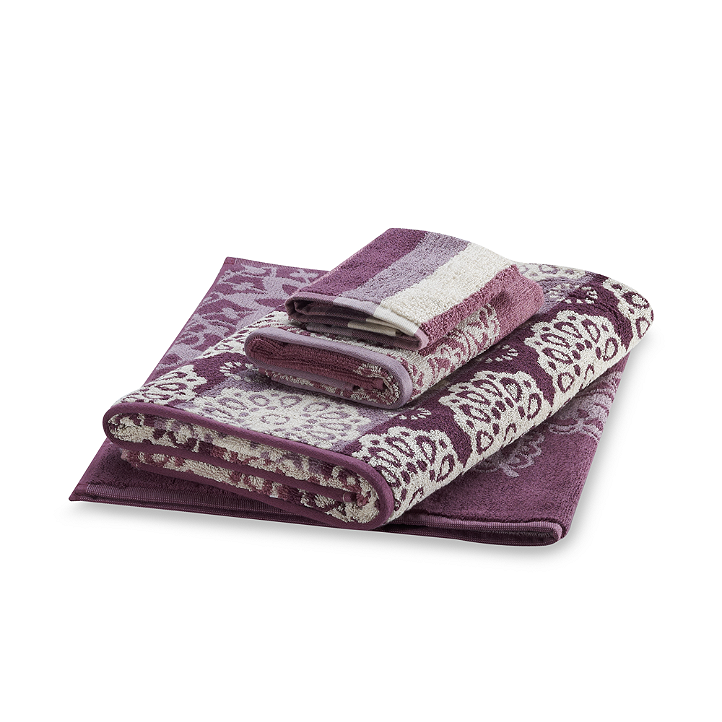 You can always add it in accessories like pillows, vases and even something unique like these purple metallic wall sculptures also from Bouclair Home ($14.99 for the set).
Lastly, for those of you who are not scared to be a little bolder, purple compliments olive and deeper hunter greens, and is perfect paired with tourquoise, teal and even light yellow.
Happy decorating in 2014 and happy new year to everyone!